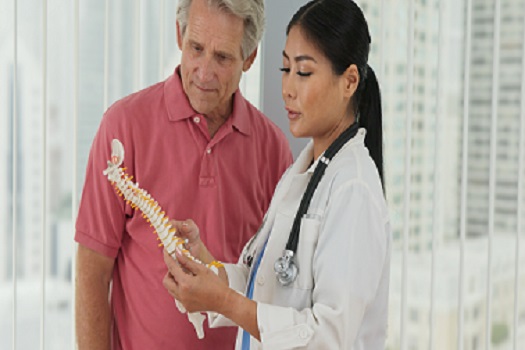 It's not unusual for a primary care physician (PCP) to refer a patient to a specialist if the patient has a serious back injury or chronic spine-related pain that's not responding well to initial treatment efforts. If surgery becomes a possibility for your particular situation or there's a need to find out why certain treatments aren't working, you'll likely be referred to either a spinal surgeon or a neurosurgeon. Both types of surgeons have the training and education required to perform complex spine surgeries. However, there are some important differences between neurosurgeons and spinal surgeons you'll want to be aware of.
Neurosurgeons
A neurosurgeon specializes in the treatment of conditions or injuries that affect nerves, including those in or around the spine. It's a common misconception that this type of surgeon only treats brain-related issues. In fact, they typically have experience with the diagnosis and treatment of a wide range of spine-related issues. 

It should be noted that neurosurgeons are often focused on one aspect of a patient's care—making a diagnosis and/or performing surgery. They're not typically involved with other phases of treatment, such as post-surgery recovery and rehabilitation or routine follow-up care. In fact, it's entirely possible you'll have little or no contact with a neurosurgeon once he or she has contributed to your care. There are also certain spine-related issues that can usually only be treated by a neurosurgeon, some of which include: 

• Spinal cord tumors 
• Arachnoid cysts 
• Nerve root tumors 
• Conditions involving the lining within the spinal canal
Spinal Surgeons
An orthopedic spine surgeon specializes in the diagnosis and treatment of various conditions, diseases, disorders, abnormalities, and injuries affecting the back and neck and various related structures. Because of the simple fact that it's impossible to avoid encountering nerves when performing any type of spine-related procedure, even minimally invasive neck surgery, Beverly Hills patients can be confident that spine surgeons do have general knowledge of the nervous system. They just don't have the same level of specialized training involving the nervous system that neurosurgeons do. 

However, a spine surgeon is normally involved in a patient's entire journey, from the point where a diagnosis is made or confirmed through post-surgery rehab and recovery, which means you'll likely have the same doctor overseeing your care from start to finish. However, routine follow-up assessments may eventually be handed off to your primary care physician once you've completed your recovery. Spinal surgeons are typically the preferred choice when patients have issues involving: 

• Pediatric or adult scoliosis 
• Similar deformities affecting the spine 
• Structural problems involving discs, vertebrae, or spinal joints 

It's also important to note that being referred to a neurosurgeon or Beverly Hills spine surgeon doesn't automatically mean surgery will be your only option. In some cases, either one of these specialists may be able to provide a more accurate diagnosis, which could allow you to respond better to conservative treatments. If surgery ends up being your best option, your doctor can help you decide which type of surgeon is appropriate based on the origin of your symptoms and other patient-specific factors. 
If you're experiencing severe or long-lasting back or neck pain and you think you may need surgery, call on the industry-leading spine specialists at The Spine Institute. We use the most innovative methods and state-of-the-art technology to diagnose and treat every aspect of spine health. Give one of our friendly team members a call today at 310-828-7757 to schedule an evaluation.